We are just 97 days out from our next scheduled trip to Disney, and I've been "Disney Dreaming". Family responsibilities dictate that we don't know when we're be able to go back, and I just want to make this trip very memorable for Rod and I. I love my family dearly, but I love spending time alone with my hubby. We were scheduled to stay at Pop Century, but to me it's more of a family resort. Great for families with children, but I wanted something a little more quiet and romantic. We checked into one of the deluxe resorts, but they were a little out of our budget. Mary understood my desire for something different, and suggested Port Orleans - French Quarter. These are the grounds around the resort, and our travel agent said she thinks it will be just what we're looking for. We can walk along the river, enjoy the hot tub, or spend some time in the jazz club at the resort. So it made me happy, and Rod is looking forward to it, too.
One of our scheduled days, the kids are doing a water park. I love swimming, but water parks are not my bag, not to mention that you don't want to see this in a bathing suit! So, we will have breakfast together, but then Rod and I have most of the day to do whatever. We're thinking we might take a boat ride to Downtown Disney for lunch. And then we are planning to do dinner at the Liberty Tree Tavern. Rod and I are both fans of the early American era, and have done Williamsburg several times. So this is just perfect for us. The dinner menu includes roast turkey, carved beef and smoked pork loin, and fruit crisp for dessert. Then after dinner, we meet up with the kids again for the evening activities.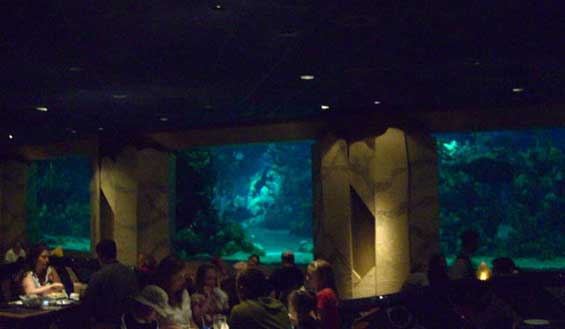 I don't know if too many people know this about me, but if I hadn't been the type of person who got homesick when I stayed at my aunt's, I would have gone to school for marine biology. The oceans fascinate me, and I love looking at the various ocean dwellers. So when I suggested having lunch one day at the Coral Reef, Rod lovingly said yes. There is a huge aquarium that can be seen while you dine. Doesn't this just look so romantic? Rod's not a big seafood fan, but they also have some non-fishy items on the menu. So this will be another meal just for two. Oh well, enough Disney Dreaming -- now back to work. Have a good weekend.