Those of you who follow me know that each year I make quilts for a raffle at the Saddle Up Trail Ride for St. Jude's Childrens Research Hospital. This ride is sponsored by Kristin's father-in-law, and has become a family event. With the uncertainty of my upcoming surgery, I have decided to concentrate on just two quilts this year. If I have time and am able, I will probably try to do more but for now two is the plan. I like to make quilts that I know will appeal to the riders, and this year I have decided to do machine embroidered blocks.
The first quilt is a horse head quilt. This is the appaloosa that I stitched out this morning. These designs were purchased from
Dakota Collectibles
, an embroidery site that I had not seen before. There will be 12 different horses that I have chosen, and I have decided to set them in a block from
Quilter's Cache
.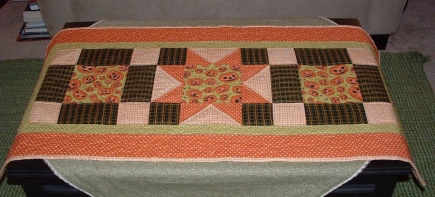 The block I have chosen is entitled Austin. This was a photo of a sample posted on the Quilter's Cache site, and I loved the look of the center block. My plan is to use my horse blocks in the center. I will use red bandana fabric for the points of the star (where she has placed the peach), dark blue bandana fabric for the corner squares, and white where this quilter has the white triangles. Both equine and patriotic quilts are always popular, and this quilt will be both.
I also want to do a "kid's quilt" and have chosen to do 12 blocks using
Wild Wild We
st designs from designs byJuJu. This is one of my favorite embroidery sites, and if you've never looked at any of her designs, you should take a few minute to do so.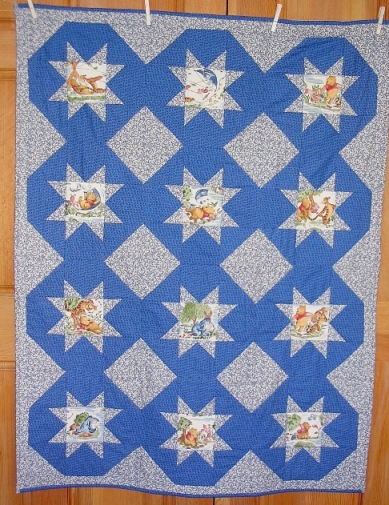 I decided to use another block from Quilter's Cache, this one entitled The Dandy Quilt. I saw this block that is posted on this site, and liked the way it looked in the top. Again, I will use my little kid blocks for the centers, and I think I may use yellow bandana fabric for the star points and kelly green bandana fabric for the outside that is bright blue in this top.
So, for the next few weeks, I will be working with the embroidery machine on the quilts for the Saddle Up.