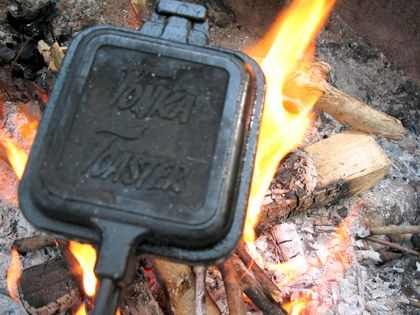 Do you know what this is? Most campers will know; but for those who don't, it's a campfire pie iron. When it comes to campfire cooking, they are the next best thing to sliced bread (which you use in them). It's one of our favorite pieces of equipment for camping. We make mountain pies in them. You butter two slices of bread. Place one in the bottom of the iron, buttered side down. Add your choice of fillings on top of the bread. Jimmy and Rod like the pizza pies with pizza sauce, pepperoni, and sliced mozzarella cheese. You could add cooked sausage, mushrooms, onions, peppers, or whatever you prefer on your pizza. Then you place the other slice of bread on top with the buttered side up. Close the iron and hold it over the campfire as shown in the photo. Watch it closely. When it's done, you have a pizza sandwich. We've made them with apple pie filling (my favorite), cherry pie filling, and also with sliced ham and cojack cheese.
With Father's Day rapidly approaching, we decided to have a campfire cookout on Saturday evening. It frees the guys up to spend Father's Day as they please. We bought frozen little Italian meatballs last weekend. Rod thinks we should cook some in sauce and then slice them, add shredded or sliced cheese and make little meatball sandwich pies. A great idea in my opinion. Which led me to start thinking. What else could you put in a dinner or dessert pie??? As a kid, I loved grilled peanut butter and jelly sandwiches. (Still do, in fact) So, it hit me - why not try a peanut butter and jelly mountain man pie. I found a suggestion on Pinterest for a Nutella and strawberries pie. Another grand idea, I believe.
And then I remembered something we used to make on the fire at Girl Scout Camp. Day Camp was famous for using government surplus food (am I giving away my age?). One of my favorite lunches involved Spam, surplus cheese, and pineapple chunks all mixed together and put into a hot dog bun. It was wrapped in foil and then put on the grill over the campfire. I've looked everywhere for a recipe for this since I'm not sure this was all that was in that bun chocked full of deliciousness. But no recipe has been found. (
This recipe
comes close.) I'm sure gonna give it a try.
So, suddenly the Father's Day campfire has become a "Mountain Man Pie Smorgasbord". I'll set out some loaves of bread (the cheapest seems to work the best), some of the above fixin's, and butter. And let the party begin. My mouth is watering just thinking about it. Do you have any other ideas for some great "Pies"?