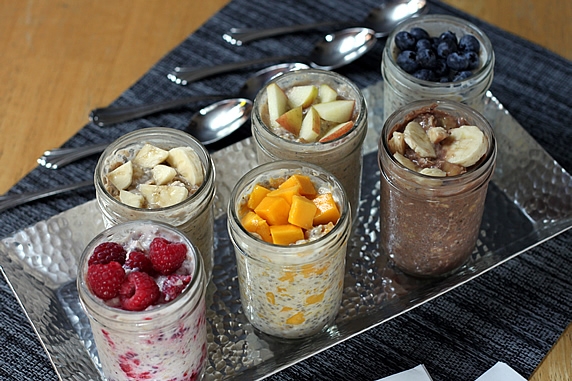 I've recently been introduced to a new website: http://www.theyummylife.com. Some of the recipes had been pinned to Pinterest, and I found them there. These refrigerator oatmeals looked so good to me, and I've decided to give them a try. These oatmeal recipes use oatmeal, greek yogurt, chai seeds and assorted other flavors and fruits. I have recently rejoined Weight Watchers, and the recipes include the Weight Watcher points as well as the other nutrition facts. So far, I've looked at 14 different flavors, and choosing which to make will be a hard decision.
Today, I have decided to make 3 per week. For this week, I have decided on the Raspberry Vanilla, the Blueberry Maple, and the Apple Cinnamon flavors
Daughter Mary brought me the
Cherry Chocolate Chunk
last Sunday night. I ate it for my breakfast on Monday, and it was amazing. The Chia seeds swell up and get soft. I would never have dreamed that cold oatmeal could be so satisfying. It was almost like a dessert, and I almost felt guilty eating it - almost. I am really impressed with the website. Monica has some delicious sounding items on here, and they are all pretty healthy. If you have some free time, check out the Yummy Life website. You won't be sorry.