After leaving Pittsburgh before the crack of dawn, we arrived in Orlando at 8:10 a.m. The weather was beautiful, although the heat was building already. After picking up our rental car from Budget (the best price we found was through Costco and we had a free upgrade coupon), we proceeded to drive to our resort, Port Orleans French Quarter. I had pre-registered, and so they knew to expect us early. Our rooms were ready, Rod and I in a handicapped accessible room right next door to the twins. Armed with my "bag of necessities for park exploration", we proceeded to Magic Kingdom.
The first thing I needed to do was to buy a new hat. No ears! I thought it was a cute hat, but unfortunately Krissy looked better in it than I did.
The twins, Rod and I were on the Deluxe Dining Plan; Mary's family had the regular dining plan. The Burton 4 headed to Liberty Tree Tavern for lunch and would meet up with the Hogue 4 after lunch. Liberty Tree Tavern is a must do for us each trip, but we prefer lunch to dinner there. The others chose fried cheese for their appetizer, while I picked the creamy chicken with wild rice soup. It was delicious, and sadly when I asked for the recipe, I was told there was none available. After lunch, Rod and the twins decided to ride Big Thunder Mountain Railroad and I went back to the beginning of the park to get our PhotoPass Plus activated. It was more expensive than the basic Photopass plan, but included all ride photos and character meal photos, which are usually an extra fee so it was worth the extra money. As I was motoring down Main Street, I came across the Dapper Dans, the barbershop quartet in the Magic Kingdom. My dad was a barbershop lover, and I guess I inherited that love. I had not seen them on past trips, and so was glad to be able to stop and listen a spell without the others.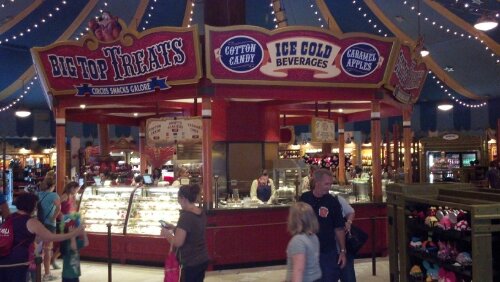 I drove back to Big Thunder Mountain, where the others had regrouped, and they rode Big Thunder Mountain again. We moved onto the Hall of Presidents, which was air conditioned and one of Pat's favorite nap spots. Then it was onto Mickey's PhilharMagic. It's a 12 minute 3D show that is so cute and features some of Disney's most recognizable tunes. We continued to tour the park, trying to concentrate on attractions that were air conditioned. We did the Monster's Inc. Laugh Floor, always a fun show. We went down to Storybook Circus, a new area which is not fully completed at this time. The Big Top Souveniers Tent had just opened that morning, and we loved it. Krissy was able to find the Oswald ears she had been searching for, and the fudge there was to die for. The rest of the group rode the Walt Disney Railroad from the new Fantasyland station, but I didn't want to leave my scooter behind, so Rod and I walked down toward the castle.
We went at Kona for dinner. I always get the duck pot stickers as my appetizer, and was a little disappointed to discover that they were now pork pot stickers. The creamy ginger soy sauce was still the same, and they were just as delicious. Instead of the normal steak, I decided to order the Kona-coffee rubbed pork chop which was served with mashed sweet potatoes. It was an excellent choice, and I rounded off my meal with the chocolate-banana creme brulee. A great meal, to be sure. After dinner, Jimmy got permission for us to leave our rental cars parked at the Polynesian while we returned to the Magic Kingdom for the Main Street Electrical Parade and Wishes fireworks. (Sprinkle Disney Magic Here)
We proceeded to the handicapped viewing area to watch the parade. Disney sets aside specific areas for handicapped individuals and their families to view parades and fireworks. Standing next to me was an extremely tall man with his wife and three daughters - none of whom were handicapped. I couldn't see past him. Two different cast members came to him at three different times and asked him to move to the back and he refused. This man was so ignorant that he even stood in front of his own daughters to watch the parade. Pat finally asked him to remove his back pack so that I could look behind him to see the parade. He was quite nasty, but finally obliged. (Remove some Disney Magic here) I told him that I hoped he was proud of the example he was setting for his children. The parade was stunning, we got video, but no snapshots.
After the parade, we proceeded up Main Street to view the Wishes fireworks from a position a little closer to the Castle. As usual the fireworks were magnificent. We left after the fireworks to make our way to the monorail so that we could return to the Polynesian and retrieve our car. While we were in line for the monorail, a family cut in line in front of us, and daughter Pat called them on it. They replied with a barrage of not-so-nice expletives and continued to berate us the rest of the way up the ramp in a language we didn't understand. There was a long wait since there were technical difficulties on one line. (Remove some Disney magic here) Still at the end of the day, we had some Disney magic left - no one could take that away.
Tomorrow - Animal Kingdom and the Halloween Party